Fundraising for windows: 800-291-3739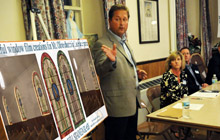 From small churches to large churches, we help churches raise funds for beautiful windows call us today to find out how.
Get your project going TODAY!
First, send us a picture of the interior of the church showing several of the windows together. Turn the lights on and take the best picture that you can text to 251-377-1227 or, send it to our email. Tell us which design would be the one that you want and our art department will put that design into your church picture. We will E-Mail it back, or send a hard copy for you to put on the bulletin board for everyone to see (on larger jobs like in the picture).
On larger project we can provide a miniature presentation artwork for you to print and to send to everybody in the church. Put a notice in the bulletin and let everyone know that you need their help. It's a great tool to sell your project to your congregation. Your church can see what the windows would look like as if they were installed. That is the key! We can do it. Let us help you CALL US TODAY 800-291-3739!
Another option is to buy window film for one window to try it out. Once your members see see it, they'll want to help get more windows. We do this all the time with churches.